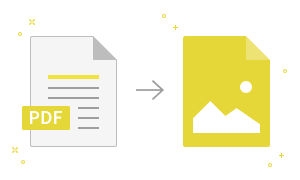 Follow these easy steps to convert PDF to JPG online:
Use the user-friendly PDF to JPG converter by simply dragging and dropping your file to the specified area.
Choose between converting entire PDF pages or extracting individual images as needed.
Click on the "Choose Option" button and wait patiently for the conversion process to complete.
Download converted files as single JPG images or conveniently bundled them into a ZIP file.
Convert your PDF to JPG format easily and freely. This PDF to JPG online tool provided by iLovePDF provides a hassle-free conversion experience.
Enjoy PDF to JPG Conversion
Experience the best online web application to convert your PDFs to high-quality JPG images within seconds. There is no file size limit on our service and no registration is required for it. Simply upload your file, and we'll take care of the rest.
Convert PDF pages to stunning images
With our PDF to JPEG converter, you can easily convert entire PDF pages to beautiful JPG images while preserving image quality and resolution.
Extract images from your PDF
Alternatively, you can easily extract each embedded image from your PDF file and save them individually in JPG format.
secure online conversion
Rest assured that your documents are safe during the conversion process. We use SSL connections to ensure maximum security, and all files are automatically deleted one hour after the conversion.
portable cloud conversion
Our online service supports PDF-to-image conversion in any browser and operating system including Windows, Mac, and Linux. No software installation is required.
work on the go
If you often work without internet access, our desktop version is available, so you can convert PDFs files to various image formats like JPG, PNG, GIF, TIFF, and BMP offline.
Convert PDF to JPG online with our free service
When you need to convert PDF to JPG, just submit your PDFs file, and we'll convert it to JPG format online.  We process your PDF files and converted them into high-quality JPG images. Using our online service, you can convert your PDFs to -JPG instantly without the hassle of installing additional software on your computer.
Other tools